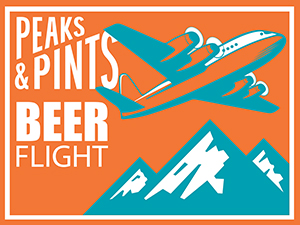 The hefeweizen has been around a long time. Some beer historians say it was brewed as far back as the 11th century. In German, hefeweizen (pronounced HEH-feh-vite-zen) means yeast wheat, so called because the beer is traditionally unfiltered, leaving the tiny particles of yeast sediment to turn the golden beer cloudy and turbid. It may be this suggestion of solidity that leads Germans to occasionally refer to hefeweizen as bottled bread. The beer style can have a variety of flavors including clove, vanilla, apple, banana, even bubblegum. They have low amounts of hoppiness. Hefeweizens are made with more than 50 percent wheat malt, which German law requires. Such mandates and customs do not apply in the United States — including Bellingham, Washington. Peaks & Pints recently acquired three hefewiezens brewed in Bellingham. Sounds like a flight to us. Stop by our craft beer bar, bottle shop and restaurant in Tacoma's Proctor District and grab Peaks and Pints Pilot Program: Bellingham Hefeweizens On the Fly.
Peaks and Pints Pilot Program: Bellingham Hefeweizens On the Fly
Aslan Hefe Weissbier
5.4% ABV
Isoamyl acetate is considered an ester, or a combination of an alcohol and an acid. It occurs naturally in both the banana plant and as a honeybee pheromone and has an incredibly pungent and recognizable banana flavor and smell. As with other esters, it is produced by yeast during fermentation and has major flavor impact on certain beer styles, particularly Bavarian style wheat beers. The ester is front and center in Aslan Brewing's Hefe Weissbier, a traditional German style unfiltered wheat with classic notes of clove and tons of banana. It's on tap at both Aslan's Bellingham locations, as well as the brewery's new Seattle location.
Wander Abundant Light
5.4% ABV
As a noble hop, rather than being bred, Saaz has been growing naturally in the Czech Republic for centuries and was named after the city of Žatec (Saaz in German) where it was originally found. With a low alpha acid content, Saaz are almost exclusively used for aroma and not bittering. Though quite mild and delicate, Saaz hops impart a distinct earthy, herbal and spicy flavor to beer. Wander Brewing adds a spicy kick to their Abundant Light Hefeweizen, thanks to Saaz, which plays well with the banana and clove flavors from the particularly expressive strain of ale yeast in Bellingham brewery's hefe.
Kulshan Hefeweizen
5.6% ABV
Hefeweizens are a German style made with wheat, which makes for a lighter-bodied beer perfect for summer drinking. Some Americans add lemon slices to their hefes, which horrifies Germans only slightly less than if you were to add ketchup. Kulshan Brewing, which owns three taprooms — two attached to brewhouses — in Bellingham, just release its Hefeweizen, which is part of their German series. It's a traditional German wheat ale with soft bready malt flavors, hints of clove and banana, and a crisp refreshing finish.
LINK: Peaks & Pints cooler inventory
---