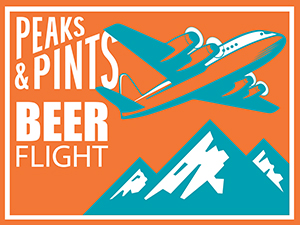 Consider Abomination. According to the Oxford English Dictionary, "a·bom·i·na·tion, /əˌbäməˈnāSH(ə)n/, noun," means, "a thing that causes disgust or hatred." According to Abomination Brewing in Pennsylvania, "The name 'Abomination' stems from the fact that for hundreds of years, Germany had a beer purity law, or Reinheitsgebot, that placed strict demands on what was and wasn't legally allowed to put in beer. This law stifled creativity and forced German brewers to create only tradition styles of beer with little to no variation. It could be said that they would look at what ABC is doing as an abomination to what they consider beer. We look to continue pushing the envelope of beer with new and exciting hop profiles and tweaks on old and new world styles." Like man breweries, Abomination Brewing was started in a garage by friends Joe Feldman and Josh Arno. In 2019, they partnered with Twelve Percent Beer Project in Connecticut to brew and distribute their across the country, including Peaks & Pints in Tacoma, Washington. Today, we present a to-go flight of Abomination beer — a flight we call Peaks and Pints Pilot Program: Abomination Beer Flight.
Peaks and Pints Pilot Program: Abomination Beer Flight
Abomination Reapers & Creepers
6.66% ABV
Abomination's Reapers & Creepers, a hazy IPA collaboration with DSSOLVR Brewery in downtown Asheville, North Carolina, returns with a mélange of oats and wheat on top of a base of 2-row. Next, it's double dry-hopped with Citra, Mosaic, Nelson, Columbus, and Motueka for earthiness, wood and grassy citrus notes.
Abomination Social Distancing: Isolation
8.4% ABV
A global pandemic can really put a damper on the community aspect of brewing. During social distancing days, Abomination Brewing was feeling down about the current state of the world and decided to get their brewing friends together for a Social Distancing Collaboration series.  The goal is to "brew a beer together, but responsibly apart," with each brewery putting their own spin on a double dry hopped double IPA. The collaborations allowed brewers to get away from home for a bit and share and learn from other brewers, all while making tasty beers. This year, Abomination brings a new form of Social Distancing: Isolation. Social Distancing: Isolation is a mashup of two of their favorite beers from the last two years — Social Distancing and Still Social Distancing for a juicy and dank hazy double IPA. Brewed with golden promise, wheat and flaked oats, it's double dry hopped to the gills with Mosaic, Enigma, Nelson, Motueka, Strata, and Citra for all the citrus and pine.
Abomination Wandering Into The Fog (Talus)
8.6% ABV
Abomination's Wandering Into The Fog is a series of imperial hazy IPA brewed with a heavy wheat and oat malt bill, then hopped and double dry hopped aggressively with a spotlight hop. Peaks & Pints currently has the Talus hop version in our cooler. Expect huge aromas of pink grapefruit, tropical citrus rinds and dank pine resin, followed by citrus on the sweet side with some dankness and subtle bitterness.
LINK: Peaks & Pints cooler inventory
---