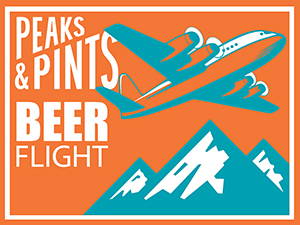 Let's face it; food holidays are more often than not ridiculous, but we love for their beer flight opportunities. It's a cheat day for us, and better yet, often a spectacular beer flight. National English Toffee Day makes for a delicious flight, and you don't need reconstructive dental work. We skip past Turkey Neck Soup Day, National Glazed Ham Day, and National Catfish Day for the drinkable Piña Colada, Gingerbread, and Cappuccino days. Today happens to be a quad-full day of holidays: National Peanut Festival, National Pumpkin Festival, Yorkshire Pudding Day, and National M&M Day. And, we're up to the challenge. Our beer flight today is one beer representing each holiday. Welcome to Peaks and Pints Pilot Day: Chocolate Peanut Pumpkin Popover Day!
Peaks and Pints Pilot Day: Chocolate Peanut Pumpkin Popover Day
Wild Ride Nut-Crusher Peanut Butter Porter
6% ABV, 18 IBU
NATIONAL PEANUT FESTIVAL REPRESENTATION: Let's talk love. Peanut Butter. It transports us to a happier, simpler age. It's not a candy thing. It's a comfort thing. Redmond, Oregon's Wild Ride Brewing brings together two favorite flavors, peanut butter and porter, in this liquid chocolate truffle treat with a strong nuttiness. Nut Crusher is a beer that's almost as fun, if not more fun, to sniff for a while before actually drinking it.
Pelican Kiwanda Cream
5.4% ABV, 25 IBU
YORKSHIRE PUDDING DAY REPRESENTATION: OK, this is a reach, but, whatever. Yorkshire pudding, or popover, is a common English side dish, a baked pudding made from a batter of eggs, flour, and milk. Peaks & Pints doesn't carry Yorkshire pudding flavored beer. We could suggest Samuel Smith's Yorkshire Stingo based on name alone, but raisin and treacle toffee flavors is a bit of the reach. Instead, we're going with a cream ale — specifically the Peaks and Pints Tournament of Beer: West Coast Flagship championship beer, Pelican Kiwanda Cream. It has light malt, some citrus, honey, and light sweet cream.
The Bruery Hold The Spoon Black Chocolate Cake
8.5% ABV
NATIONAL M&M DAY REPRESENTATION: Inspired by Jeni's Splendid Ice Creams popular flavor, Blackout Chocolate Cake, The Bruery's Hold The Spoon Black Chocolate Cake is an imperial milk stout "treated with mounds of cacao nibs, pure vanilla, and a dash of salt for balance," according to The Bruery hype. This stout is mouth-filling and complex, with notes of rich cocoa, chocolate cake, bittersweet fudge, and semi-sweet chocolate chips.
Elysian Night Owl Pumpkin Ale
5.9% ABV
NATIONAL PUMPKIN FESTIVAL REPRESENTATION: While most breweries have one or two pumpkin beers in the portfolio, Elysian Brewing Co. brews more than a dozen. Night Owl, brewed with more than 7 pounds of pumpkin per barrel, seven different malt varieties, green and roasted pumpkin seeds, bittered with Magnum hops and spiced in conditioning with nutmeg, clove, cinnamon, ginger and allspice, is their most lauded. It leans more toward Christmas than Halloween. Maraschino, banana-nut, cinnamon, pecan and graham cracker hit the tongue. Cinnamon dominates with some caramel and a touch of biscuit malt sweetness to support.
---