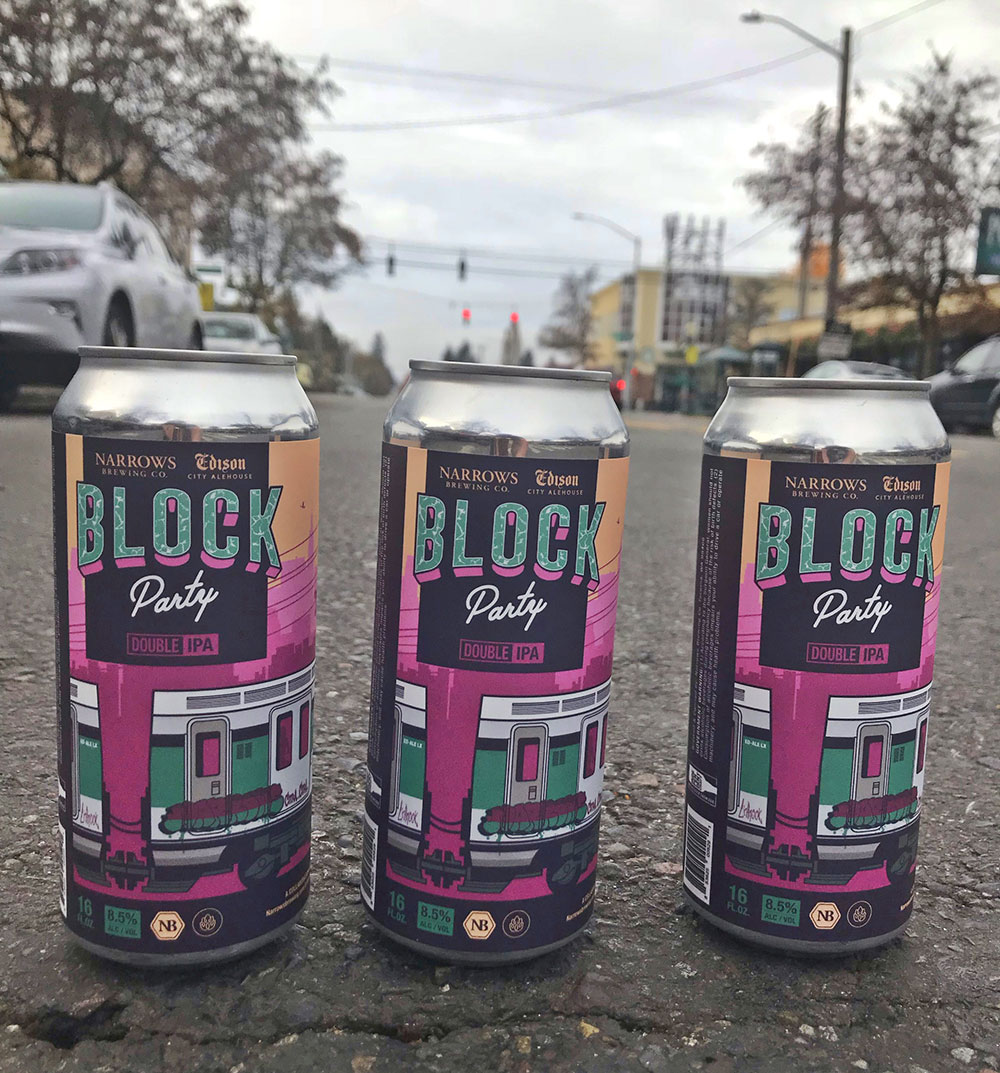 Narrows Brewing Block Party Double IPA
A neighborhood is an area where people live and interact with one another. In Tacoma, a neighborhood is also a series of delicious craft beers brewed by Narrows Brewing Company.
"Hey, South Tacoma," Narrows Brewing Head Brewing Matt Rhodes probably didn't ask, "won't you be my Neighbor?"
Here's the story on how South Tacoma sort of became Narrows Brewing's latest neighborhood craft beer. …
In the mid-1800s the area that would become South Tacoma was prairie land — Hunt's Prairie was the first name given to this area, which was home to a few pioneering farm families. In 1890, the Northern Pacific Railway ushered in the birth of what would become South Tacoma Business District. That year the company moved its railway shops from downtown Tacoma to the prairie land south of the city, which provided significantly more expansion flexibility than their holdings downtown. The railroad buildings ran along the tracks and extended from 56th Street to South Tacoma Way. In 1891, the post office, and the community, was eventually named "Edison" in honor of Thomas Edison, who was a personal friend of the Northern Pacific Railroad owner, Henry Villard. In 1895 the town's name was changed to South Tacoma. It was eventually incorporated into the city.
In the spring of 2015, Robby Bessey and Andrew Babcock opened Edison City Alehouse in the neighborhood near South 56th Street and South Tacoma Way, giving nod to the area's history. While first-time business owners, the duo held brewery or beer-related jobs in Seattle with a wealth of beer knowledge and, eventually, a kick-ass Crowler canning machine. The neighborhood embraced the taproom and bottle shop.
Rhodes walked into Edison City Alehouse with neighborhoods on his mind. With several Tacoma neighborhood beers already on tap and in coolers around Tacoma, including the Proctor DDH Pale Hazy Ale, Rhodes thought South Tacoma was the next logical choice. After chatting with Bessey and Babcock, the Block Party Double IPA would crash the Narrows Neighborhood Series party.
"Somehow during our conversation at Edison City Alehouse, the South Tacoma beer became more of a representation of all the Tacoma neighborhoods with Robby and I eventually wearing brewer boots in Narrows' brewhouse," says Babcock.
Bessey and Babcock helped brew Block Party Double IPA, tossing in Amarillo, Chinook, Columbus, Simcoe and Cryo Citra into the kettle.
"The original idea was an old school West Coast double IPA," says Babcock. "One thing lead to another, and we ended up with an hazy, tropical double IPA with old school bitterness and a dank nose thanks to dry-hopping."
In addition to Edison City Alehouse and other Tacoma houses of craft beer, the 8.5-percent, 100 IBU Narrows Block Party Double IPA hangs in the Proctor District neighborhood inside Peaks and Pints' cooler. Stop by and enjoy a multiple neighborhood block party.
---