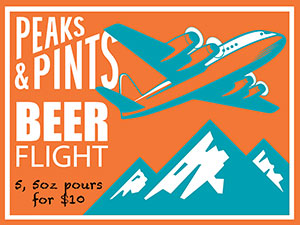 Though English hops comprise only about one percent of the world's production, they have a dedicated global following. They tend to be grassy, floral, lemony, woodsy, minty, or tea-like, and are generally used in beer styles of English origin or their spin-offs made around the world. Various "Golding" types can be traced back to the 1790s. Fuggle was propagated by Richard Fuggle in 1875. There has been an active hop-breeding program at Wye College in Kent for most of the 20th century, which has led to many recent English varieties: Admiral, Brambling Cross, Brewer's Gold, Bullion, Challenger, Northern Brewer, Pilgrim and Progress. Today, Peaks and Pints presents a flight of English hops we call Craft Beer Crosscut 6.29.18: A Flight of English Hops.
Samuel Smith Organic Apricot Fruit Beer
5.1% ABV, 16 IBU
One of the oldest operating breweries in the world, Samuel Smith's Old Brewery has been brewing with the same derivative yeast strain in the same stone vats for the last 255 years. They even keep a small team of Shire horses — a breed that traditionally pulled brewery wagons — to deliver beer around its hometown of Tadcaster. But for all this tradition, Samuel Smith is remarkably modern. All but one of its beers are vegan and the brewery has an entire line of organic ales, including its Apricot Fruit Beer. According to Samuel Smith's, it's brewed at All Saints Brewery in Stamford, England using all manually operated equipment. Barley and wheat are combined to make an ale, fermented and aged for an extended period, then taken to Samuel Smith's brewery in Tadcaster, England. It is at this stage where they blend in pure apricot juice to create a fruit-forward ale with malt and some organic English hops on the back.
North Jetty Leadbetter Red Scottish Ale
4.8% ABV
Michelle and Erik Svendsen, wife and husband and brewers, opened North Jetty Brewing at the Long Beach Peninsula more than four years ago. Gone are the 1.5 barrel system and limited distribution. Today, the Svendsens brew on a 10-barrel system, with beer distribution in 11 counties in Washington and Oregon. They bottle. They win awards. They use seven different malts and add English hops to create this traditional 80 Shilling Scottish Export Ale. It's a malt-driven beer with toasty hints of caramel and a slight sweetness on the finish.
Hair of the Dog Fred
10% ABV
Fred Eckhardt's book, A Treatise on Lager Beers, published in 1969, was the first modern book about beer. During his stint as the Oregonian's first beer columnist he penned The Essentials of Beer Style, helping many homebrewers understand their craft and in turn helped launch many craft brewing careers, including Hair of the Dog Brewery's Alan Sprints, who created an American Strong Ale simply named Fred. Fred, the beer, is a deep golden color. It is made with aromatic and rye malts and includes 10 different hop varieties — Northern Brewer, Progress, First Gold, Crystal, Fuggle, Willamette, Tettnang, Chinook, Spalt, Saaz and Strisselspalt for caramel, bitter hops and some alcohol.
North Coast Old Stock Ale
11.9% ABV, 34 IBU
With a big sherry-like aroma, including hints of vanilla and peppery spice, we're forewarned North Coast Old Stock Ale is stocky. Sure enough, our first taste highlights big brown sugar sweetness up front, with Champagne-grape and honey notes along for the ride. It's brewed with classic Maris Otter malt and Fuggle and East Kent Goldings hops, all imported from England. In the cocktail world this beer would be an Old Fashioned. It's hot with alcohol, lip tingling and obviously young, with an assertive bitterness from that belies the 34 IBUs. As good as it is today, it will significantly improve with time.
Against The Grain London Balling
12.5% ABV, 80 IBU
Against The Grain's London Balling is an English-style barleywine aged in Angel's Envy bourbon barrels brewed with enough Maris Otter pale, Aromatic and Caramel malts to nearly overflow the brewery's mash tun. The brewers balance this beer with English Nugget and Kent Golding hops for flavor full of nuts and dark caramel. There are background notes of plums, slight spice and bourbon. The alcohol warming is quite pleasant without any harshness or being hot.
---