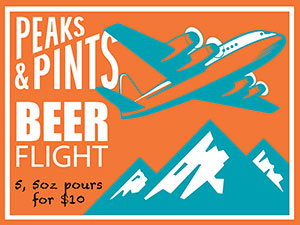 If you are new to the Portland, Oregon area or have been a long time resident it is always fun to explore the beautiful city. The city is divided into four quadrants, Northwest, Southwest, Northeast and Southeast. There is also what is known as the fifth quadrant, North Portland. Peaks and Pints knows it doesn't make sense to have five quadrants. It's probably, part of the keep Portland weird movement. The division of the quadrants is easy to distinguish. Burnside is the street that divides North and South and the beautiful Willamette River divides East and West. North Portland is where the Willamette turns west and runs into the Columbia River and it creates a pie shaped area. North Portland — including Northeast and Northwest — is home to many a craft brewery. Today, Peaks and Pints salutes North Portland with a beer flight we call Craft Beer Crosscut 4.5.18: A Flight of North Portland.
Royale Inspektor Red Ale
6% ABV, 31 IBU
Mike Weksler, Jack Houston and Paul Bastian had been pushing through Alameda Brewhouse's exit doors with kegs of their Royale Brewing Co. Pilsner and Fat Unicorn Pale until they found their own brewhouse down the street in Northeast Portland, followed by their own taproom in the city's St. John's neighborhood. Recently, Royale Brewing signed on with Alpha Distributing bring the brewery's craft beer to Western Washington, including Peaks and Pints. Royale's Inspektor Red Ale is a rich, malty version of the style that leads with a subtle, tropical fruit and berry hop aroma followed by toffee, caramel and baked bread malt aromas and flavors.
Royale Bière de Garde
7.2% ABV
Bière de Garde, which means "beer which has been kept or lagered," is a traditional artisanal farmhouse ale from Northern France brewed in early spring and kept in cold cellars for consumption in warmer weather. Related to the Belgian saison style, the main difference is that the Bière de Garde is rounder, richer, sweeter, malt-focused, often has a "cellar" character and lacks the spicing and tartness of a saison. Royale Brewing's version is co-fermented with Antwerp Ale and Bohemian Lager yeast with bready, biscuity, raisin and slightly herbal notes. It's on the dry side.
Breakside Mexican Coffee Stout
7% ABV
Having won multiple medals from the World Beer Cup and Great American Beer Festival since first launching their Northeast Dekum brewery in 2010, Breakside Brewery offers a delicious Mexican Coffee Stout, a sweet stout brewed with fellow Portlandia establishment Stumptown coffee. Expect dark roasted and sweet malt with some coffee roast prominence, some chocolate, charred burnt malty accents and fennel with medium body and a touch of cinnamon in to the dark malty finish.
Ex Novo Dynamic Duo Project 020
8.3% ABV, 75 IBU
Since opening in 2014, Ex Novo Brewing's mission is to contribute all — yes, all — of its profits (that don't get redirected to infrastructure improvements, which is not code for lining any pockets) to its four primary nonprofit partners: Friends of the Children, IJM, Impact NW and MercyCorps. Keep that in mind as you enjoy the Northeast brewery's Dynamic Duo Project 020, a dual hop IPA series that features Mosaic and Rakau hops for this round. It's dry and tropical with a nice stone fruit aroma. 8.3%, 75 IBU
Ecliptic Barrel-Aged Oort Imperial Stout
12.1% ABV, 77 IBU
Oort? If you know anything about Ecliptic Brewing founder John Harris, you know in addition to creating many of Deschutes Brewery's flagship recipes he is also an astronomy buff. An Oort Cloud is an extended shell of icy objects that exist in the outermost reaches of the solar system. It is named after astronomer Jan Oort, who first theorised its existence. It's roughly spherical, and is thought to be the origin of most of the long-period comets that have been observed. The Northeast brewery's Oort is an imperial stout that includes a barrel-aged version, which slumbered for 15 months in 12-year-old bourbon barrels imparting flavors of caramel, cocoa, brown sugar, bourbon and light oak with a smooth dry lingering cocoa bourbon finish.
---