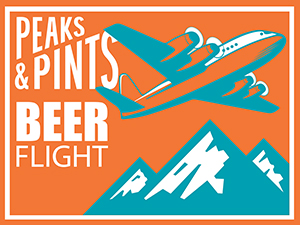 For the past couple years, when a mention of Bellingham breweries awards comes up, there's always a discussion that starts with "Kulshan, again?" —Tournament of Beer: Northwest Pilsners grand champion to name one — but even though the rest of Bellingham's growing craft beer scene is pretty damn awesome, the stamp that Kulshan Brewing Co. has put on Bellingham can't be denied. Forget about the beers — we all know there's a loving spot in our hearts for Bastard Kat IPA, Kitten Mittens Winter Ale and Sunnyland IPA — but it's the outdoor seating, dog hugging, collaborations, charitable contributions and community interaction that really sets the team at Kulshan apart from the rest. And, they are fun people. Really fun. Peaks and Pints hosts Kulshan Brewing Co. during our Coffee Beer Chat Friday as part of Tacoma Beer Week. As a precursor, we're offering a flight of Kulshan beers we call Craft Beer Crosscut 4.12.18: A Flight of Kulshan.
Craft Beer Crosscut 4.12.18: A Flight of Kulshan
Kulshan Raspberry Gose
4% ABV
Bright and highly sessionable, Kulshan's Raspberry Gose pays homage to Northwest Washington's unbeatable long summer days and the hardworking raspberry farmers of Whatcom County. Malted wheat, Pilsner malt` and German Perle hops and fresh raspberries are inoculated for a hazy pink-ish summer sipper. Expect mild sour aroma with berry notes, some body, light malt base and slight tartness.
Kulshan Premium Lager
5% ABV, 12 IBU
Kulshan grabbed gold at the 2017 Washington Beer Awards for its Premium Lager. Now a year-round offering, the canned craft beer is light and refreshing lager with just enough crispness to balance the malts perfectly. Subtle grain and light hop aroma adds to this thirst quenching beer. Made with Mt. Rainer hops, its aroma is full of straw with grains and bread backing. Flavor is similar with straw, some sweet grain and a bit of bread.
Kulshan Oaxacan Sunrise
5% ABV, 21 IBU
Kulshan's Oaxacan Sunrise is a collaborative effort with Bluebeard Coffee Roasters in Tacoma, Washington and their just re-released Santa Maria Yucuhiti de Oaxaca coffee. This Mexican coffee lager doesn't jolt with coffee, but rather offers subtle notes. In fact, "Subtle" is this crisp lager's middle name with subtle notes of graham cracker, cocoa, praline, cinnamon and plum. Oaxacan Sunrise will be featured at Peaks and Pints Coffee Beer Chat session at 6 p.m. Friday, Aug. 16, in conjunction with Tacoma Beer Week.=
Kulshan Pilsner
5.2% ABV, 30 IBU
Kulshan's German-style Pilsner won the 2019 Peaks and Pints' Tournament of Beer: Northwest Pilsners, grabbed a gold medal at the 2017 Best of Craft Beer Award and a silver at the 2018 Washington Beer Awards, no doubt for its traditional clean and bready malt flavors supported by herbal, floral and slightly spicy hop aromatics and flavor from Hallertau Magnum, Hallertau Perle, and Spalt Spalter hops. With a medium body and a dry finish, Kulshan Pilsner is a champion.
Kulshan Nor'Easter Barleywine
13.4% ABV
Kulshan's oak barrel aging, measured patience, meticulous blending and years of anticipation culminate to bring you this special English-style barleywine. Bold, complex, flavors and aromas warm the senses. Layers of toffee, roast, sweet malt and generous hop presence provide the perfect balance to alcohol warmth.
---