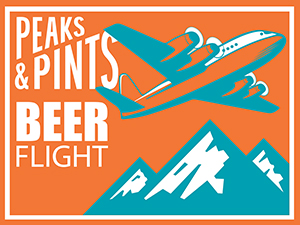 Putting fruit in beer isn't new. The Mesopotamians were brewing with fruit thousands of years ago. But here in America, the first modern fruit beer was made 32 years ago at McMenamins' first brewpub in Hillsdale, and featured some blackberries growing up the back fence. Fruitheads really didn't have their day until Dogfish Head busted out Aprihop in 1999 with the tagline, "A fruit beer for hopheads or an IPA with a fruit problem." Yes, some fruit beers can be palette-fatiguing after a sip or two. But fruit beers can also be as subtle, layered, and structured like fine wines, which, you'll recall, are essentially just grape juice. Peaks and Pints offers a five-beer flight of fruit beer we call Craft Beer Crosscut 3.6.19: A Flight of Fruit Beers.
Craft Beer Crosscut 3.6.19: A Flight of Fruit Beers
Samuel Smith Organic Strawberry Fruit Beer
5.1% ABV
Peaks and Pints can never say enough good words about the beers from the Samuel Smith brewery. It has origins dating back to 1758 and is part of the shrinking segment of independent British breweries. Its Organic Strawberry Fruit Beer is just that, a fruit beer, rather than a sour or a lambic. According to Samuel Smith's, it's brewed at the All Saints Brewery in Stamford, England using all manually operated equipment. Barley and wheat are combined to make an ale, fermented and aged for an extended period, then taken to Samuel Smith's brewery in Tadcaster, England. It is at this stage where they blend in pure fruit juice to create a very fruit-forward ale with malt and some bittering hops on the back.
Ommegang Rosetta Kriek
5.6% ABV, 9 IBU
Brewed and blended by Brewery Ommegang's sister brewery Liefmans in Belgium, Rosetta combines old (aged on cherries at least three years) and young Flemish brown ale (or oud bruin) with a lively and fruity kriek, or cherry beer. The blend, which was developed by Ommegang Brewmaster Phil Leinhart, results in a complex yet refreshing mahogany-brown brew that is an intriguing interplay of tartness and sweetness.
Lagunitas Aunt Sally With Peach
6.2% ABV
In making the original Lagunitas Aunt Sally Dry-Hopped Sweet Sour Mash Ale the brewery soured the wort on the hot side with Lactobacillus for a few days and then brewed up the smooth and hoppy sour for notes of tart lemons and citrus — with some sour candy in there. In this version, expect more sweet peaches than tart peaches. The lacto also adds a nice creaminess, resulting in a smooth hoppy sour ale.
Founders Blushing Monk
9.2% ABV
Think of Blushing Monk as Founders Brewing's Rubaeus' older sibling — more intense, slightly larger and just a little bit more mature. Blushing Monk is fermented with a Belgian yeast strain in a nod to the ancient monastic art of brewing. Fruit-forward ferment aromas and spice esters combine with an abundance of raspberries for a fruity, slightly tart taste with raspberries, red fruit, some wood, syrup, a touch of balsamic vinegar and a sweet and sour finish with fairly moderate bitterness.
Dogfish Head Fruit-Full Fort
18% ABV
Dogfish Head's Fruit-Full Fort is an aggressive attempt to punch up the fruit flavor in the brewery's standard Fort — itself a Belgian style strong ale featuring raspberries. Additions of blackberry, elderberry and boysenberry (along with the original raspberry) pair with a hefty Munich malt bill to provide a sipper loaded with booze, booze, booze.
---