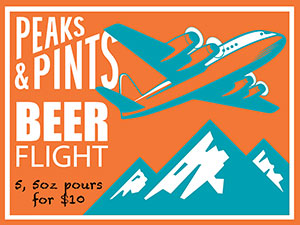 The South Sound brewing world is being rocked by the news that 26-year-old Western Washington beer distributor Marine View Beverage has been sold to one of the biggest distributors in the country, Portland-based Columbia Distributing, which itself was acquired by private equity firm the Meritage Group in 2013. For Peaks and Pints the news is heartbreaking. Marine View Beverage isn't just a partner; six of the sales staff are friends. Director of Craft and Imports Pete Giste, Craft Brand Manager Kent Wetzler, Key Account Specialist and Events Coordinator Terry Richardson, On-Premise District Manager Erik Dahlin, Key Account Manager/Craft Brand Manager Jeff Lee and Sales Executive Nick Walsh helped Peaks and Pints open well before our official launch date Nov. 1, 2016. We salute Marine View Beverage with a special Best of Marine View Beverage party tonight backed with an all-day beer flight, Craft Beer Crosscut 3.28.18: A Flight of Marine View Beverage. The aforementioned folks chose the feature beer flight beers. Since we only offer flights of five beers, and it's certainly not craft beer, we left off Walsh's Coors Banquet choice.
Founded by Fred Bevegni, Mike "BJ" Bjerke and Lance Kahn in 2002, Marine View Beverage was formed through the merger of three wholesalers — Western Beer Distributing, Black Hills Distributing and Jennings Distributing — sells products from more than 120 beer, water and energy drink suppliers in seven western Washington counties — Clallam, Jefferson, Kitsap, Mason, Pierce, Thurston and part of King County. Alongside Heinekin, Samuel Adams, Corona, Coors and other beers in the MillerCoors and Constellation portfolios, Marine View Beverage is responsible for the sales and distribution of a large swath of Washington state breweries—including 7 Seas Brewing, Bale Breaker Brewing, Silver City Brewery, Black Raven Brewing, Maritime Pacific Brewing and No-Li Brewhouse.
"From our humble beginnings to where we are today – it's a proud yet bittersweet moment," Marine View co-owner Fred Bevegni said via a press release. "BJ along with our dear friend and partner, the late Lance Kahn, set out to form a company with a unique leadership model, outstanding customer service and superior employee competence. We hit the mark on all of those. Columbia is purchasing one of the best."
Enjoy today's Peaks and Pints craft beer flight and hopefully you can stop by Peaks and Pints to hang out with the best tonight.
Left Hand Nitro Milk Stout
6% ABV, 25 IBU
Marine View Beverage On-Premise District Manager Erik Dahlin doesn't want to get into the chemical physics of solubility and gas diffusion, but rather says that nitrogen has a silkifying effect on one of his favorite beers, Left Hand Nitro Milk Stout. Nitrogenated brews, as opposed to carbonated ones, have a softer mouthfeel, taste less acidic and boast a creamier, more stable head. Left Hand's Milk Stout was no bore before, and on nitro, it's even better. Cocoa and burnt flavors from its dark roasted grains come forward first, followed by a wave of sweet cream thanks to the use of lactose sugar. Magnum hops help give the 6 percent-alcohol brew a bitter finish that entices the next sip. Throughout, the beer's ultra-smooth texture inches it closer to chocolate milk than you thought a beer could get.
Sierra Nevada Pale Ale
5.6% ABV, 38 IBU
Marine View Beverage Key Account Manager/Craft Brand Manager Jeff Lee tips his cap to the iconic Sierra Nevada Pale Ale that makes all the others in this flight possible. First brewed in 1980, Sierra was the craft that started appearing next to Bud and Miller handles, thus shifting the beer landscape of what people wanted to drink. It was a victory of flavor over, uh, liquid. It has a deep amber color and an exceptionally full-bodied, complex character. Magnum and Perle gives this this craft beer a clean, bitter taste. Generous quantities of premium Cascade hops give the Pale Ale its fragrant bouquet and spicy flavor.
7 Seas Last Chance Lone Hop IPA
5.7% ABV, 55 IBU
Marine View Beverage Director of Craft and Imports Pete Giste has already secured a new career as sales manager for 7 Seas Brewing of Tacoma and Gig Harbor. Therefore, it's not a shocker Giste chose his new brewery's latest beer, Last Chance Lone Hop IPA, as his farewell craft beer today. "Brewed with El Dorado hops, expect tropical, fruity and bright hop tones with a crisp finish," says Giste. Indeed. Last Chance is the first of three new "hop-forward" beers 7 Seas will release this year: Never Say Die Nomadic IPA will hit the market in June before concluding the year with Booby Traps CDA in October.
Ninkasi Tricerahops Double IPA
8% ABV, 84 IBU
Marine View Beverage Key Account Specialist and Events Coordinator Terry Richardson bows before Ninkasi, the mythical god of beer, the inspiration behind Ninkasi Brewing Company, the Eugene, Oregon brewery that also brew Richardson's favorite Tricerahops Double IPA. Hops explode in the nose, cascading pithy grapefruit, sticky pinesap and floral notes atop a caramel foundation. It hits the tongue hard with sweet caramel before a blend of Chinook, Cascade, Summit, Centennial and Palisade hops offer floral, fruity, and earthy notes, yet with a malt background. It's hop-forward, full-bodied and strong. Yet the balance with the malt lends enough depth and a spicy complexity to make it very interesting. Resinous, citrusy, woody, and powerfully bitter, the hop flavors slowly unfold and last well into the aftertaste.
Stone Enjoy By 4.20.18 IPA
9.4% ABV, 90 IBU
Marine View Beverage Craft Brand Manager Kent Wetzler squeezed in one of his favorite craft beers before the deadline — and by deadline we don't mean our deadline but rather Stone Brewing Co.'s calendar restriction. In late summer 2012, Stone Brewing blew minds with a new imperial IPA. OK, the Escondido, California brewery brews a lot of imperial IPAs, but this one was light in body, had late-addition hops to the gills, scaled back finishing bitterness and designed to perish within a short window of time. Stone releases its Enjoy By series quarterly, including Wetzler's pick Enjoy By 4.20.18. It's one of the better Enjoy By batches with 10 types of hops and some other tricks or sorcery. The pine hops are strong, the citrus, lemon and bitter grapefruit is just right and the malt is sweet.
---