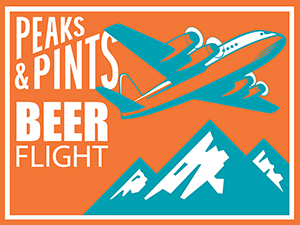 It was 2007 when Ron and Jackie Walcher opened the brewery down a dirt road near Arlington. Today, Skookum head brewer Hollis Wood and his small team churn out "big bold strong" craft beers in a giant facility with a popular taproom down the street from the Arlington Airport — managed by an angel, a big, bearded lovable man named "Angel." Skookum Brewery brews beers that are locally sourced, with more than 90 percent of their barley grown and malted in state, on equipment predominately purchased locally including several pieces made in Washington state. Today, Peaks and Pints presents a five-beer flight of the Arlington brewery's craft beers that we call Craft Beer Crosscut 2.12.20: Flight of Skookum Brewery.
Craft Beer Crosscut 2.12.20: Flight of Skookum Brewery
Skookum Deep Color
10.3% ABV
OK, not so cloudy, but still delicious. Old ale recalls the type of beer brewed before the Industrial Revolution, stored for months or even years in unlined wooden vessels known as tuns. The beer would pick up some lactic sourness as a result of wild yeasts, lactobacilli and tannins in the wood. The result was a beer dubbed "stale" by drinkers: it was one of the components of the early, blended porters. Skookum brewed a strong old ale, added cherry wood smoke malt then aged in in whiskey barrels for 10 months. The result is Deep Color with deep notes and aromas of dark fruit, tobacco, oak, and mild smoke.
Skookum Aura
6.5% ABV
This bright and extremely aromatic IPA is brewed with an insane amount of flaked wheat and oats. Hopped aggressively with Vic Secret, Citra and Amarillo, Aura offers notes of tangerine sunrays, papaya, and peach rings.
Skookum Far From Fields
6.6% ABV
Spelt is a hard-grained heirloom wheat, with genes going back to cultivars planted in Neolithic times in the Fertile Crescent of the Middle East. Used at proportions approaching 50 percent of the grist, spelt malt gives mild, nutty flavors backed by tangy acidic notes. Skookum adds wheat to spelt to create a hazy Far From Fields IPA. Mosaic, Comet, and Azacca hops are added for notes of pine berries, dank citrus, and mango vibes.
Skookum Sunshower
6.8% ABV
Sunshower is a spelt and rye IPA brewed with dank amounts of Motueka, Citra, and a touch of Apollo for flavors of strawberry kush, kiwi, lime, and orange blossom honey.
Skookum Murder of Crows
9% ABV, 70 IBU
Murder of Crows is Skookum's roasty and complex imperial stout brewed with a plethora of specialty malts and finished on old crow whiskey oak cubes. It's an interesting moderately strong mix of familiar yet novel imperial stout aspects. Flavor is a light, cola black syrup malt with a smooth "wet" roast, a little bitter chocolate, subtle smoky char and wood. The aftertaste, though, has a slightly fruity and fumy black malt flavor. Yes, it's big and bold (70 IBUs!), but never too abrasive. Sip after sip it becomes more silky.
---