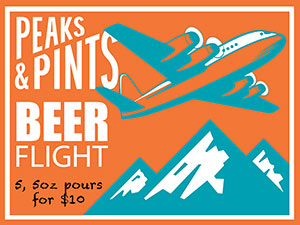 The first India Pale Ale was extra hopped in order to make the journey to India and still taste like an English Pale Ale when it arrived. Today, the utilization of boldly hopped brews has developed into a means of bittering, aroma or both. This is not to say that a traditional bittering hop is never used for aroma and an aroma hop is never used for bittering. Dual-purpose hops, by definition, have both qualities. A bittering hop will generally have a higher alpha acid content, which will make the hop efficient in providing bitterness. There are also different components of the bitterness that are taken into account. Some bittering hops will have a "softer" bitterness and others a more aggressive bitterness. Aroma hops will generally have a pleasant aroma and a characteristic ratio of several essential oils. In any case, Peaks and Pints presents a flight of heavily hopped beers we call Craft Beer Crosscut 12.2.17: A Flight of Heavily Hopped.
Fort George Suicide Squeeze Special Edition
7.2% ABV
This is not the same session IPA from 2014 when it was launched in collaboration with Seattle's Suicide Squeeze record label (Modest Mouse, This Will Destroy You, Elliot Smith). Fort George Brewery has re-mastered the recipe in a big, big way with a solid 7.2% ABV. The recipe was tweaked with big additions of Mosaic, Amarillo and Citra hops. Front loaded with organic 2-row barley and layered with deep cuts of specialty malt, Suicide Squeeze IPA presents us a balanced, full sensory experience. Designed to look like a 7-inch vinyl this colorful label changes colors with temperature swings, the snake on the label is dead and dull when the can is warm, but becomes a vibrant bright green when cold.
Boulevard The Calling IPA
8.5% ABV, 75 IBU
The Calling is Boulevard Brewing's most heavily hopped beer. It carries a simple malt base composed solely of 2-Row base malt serves as a platform for giant, punchy hop flavor and aroma provided by a blend of Simcoe, Bravo, Topaz, Cascade, Mosaic, Equinox, Galaxy and Amarillo hops. The Calling bursts forth with unmistakable tropical fruit and pine hop aromas and flavor supported with a slightly sweet malt character, tapering to a crisp, dry finish.
Port Brewing Wipeout
7.5% ABV, 78 IBU
Port Brewing's version of a West Coast India Pale Ale brewed in the San Diego style; Wipeout IPA gets its attitude and flavor from Amarillo, Centennial, Cascade and CTZ hop varietals. While the hops are vibrant and dank, there is just enough pale malt to balance the resinous finish. It's a classic West Coast Amarillo/C hopped IPA with fantastic complexity, robustness, and balance of citrus/fruity/pine hops and moderate bready malt flavors with a aggressively bitter/drying finish.
Drake's The Denogginizer
9.75% ABV, 90 IBU
In January of 2004, Drake's brewers sought to create a beer to turn some heads. They crafted a massive Imperial IPA with a full body, smooth malt backbone and an utterly irresponsible amount of pungent, dank, American hops. After three weeks in the tanks and one minor incident involving a pressure relief valve jettisoning across the cellar and nearly decapitating a brewer, a beer, and its name, were born. The Denogginizer Double IPA is a monster of a beer made with a colossal mash of malted barley and finished with an irresponsible amount of West Coast hops, including Warrior for bittering, Chinook and Exp. 07270 in the whirlpool and dry-hopped with Cascade, Centennial and Chinook. An epic tsunami of dank, chewy hops cuts like a guillotine through the warm embrace of velvety smooth sweetness.
Dogfish Head 120 Minute IPA
18% ABV, 120 IBU
Described as "the holy grail for hopheads," the Dogfish Head Craft Brewed Ales' 120 Minute IPA receives its name for how long it's boiled for — two hours, using Amarillo, Simcoe and Warrior hops continuously in the brewing and fermenting process — the result is an out-of-this-world beer that's definitely not for everyone. The 120 Minute pushes the human palette to the limit — maxing out at 120 IBUs (see a theme here?). Taste starts bittersweet with piney hops and orange peel but then the booze kicks in and burns the throat. Despite this, there's a nice, smooth finish that follows the initial hoppy burn.
---