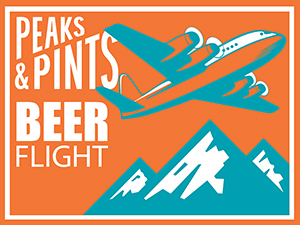 There was a day when Seattle's Georgetown neighborhood wasn't as hip. A neighborhood geographically disconnected from the rest of the city, Georgetown was populated mostly with dives and holes in the wall. And it was industrial ― a hub for trucking companies and design wholesalers with fossil fuels and train tracks thrown in. Seattleites already had hip and happening Belltown and Ballard; they weren't about hang in Georgetown. But then something unexpected happened: big name culinary icons and established brands moved in to set up shop in Georgetown. The breweries followed, led by Georgetown Brewing. Today, among the vintage shops, music stores and first-rate comic book retailers, Georgetown is the home to notable craft breweries. Peaks and Pints salutes the neighborhood with a flight of five beers born there — a flight we call Craft Beer Crosscut 12.12.18: A Flight of Georgetown Neighborhood.
Craft Beer Crosscut 12.12.18: A Flight of Georgetown Neighborhood
Tin Dog Saison
6.7% ABV
Tin Dog Brewing is situated in the Cloverdale business park, between Highway 509 and Highway, which is more South Park neighborhood rather than Georgetown, but it's close. The nano brewery specializes in Belgian styles so you'll often find a saison or two on tap, along with a Belgian dubbel or tripel and perhaps a wit or white IPA. Their house "Saison" bridges the gap between the malty brews of winter and summer's hoppy bitter beers, brewed with blackberry honey. It pours a medium hazy orange golden with thin white head. Aroma is lightly sweet pale malt, just a hint of yeast and orange zest on the back. Taste is clean smooth crystal malt, light juicy orange and lemon citrus, banana and light clove notes from the yeast, then an incredibly clean finish.
Two Beers First To The Top
7.3% ABV, 22 IBU
After a little more than a year in business, with sales tripling in less than a year, Joel VandenBrink moved his tiny Two Beers Brewing out of Seattle's Fremont neighborhood and into a 2,400 sq. ft. building in-between the SoDo and Georgetown neighborhood, tucked in a row of warehouses. VandenBrink, an avid mountain climber, brewed First To The Top, a milk stout celebrating forging ahead into new territory — be it first tracks through fresh powder or leading a team to the summit. Brewed with Theo Chocolate cacao nibs and orange peel, this milk stout is a perfect reward for those who get up early to take on the world.
Machine House Oatmeal Stout
6% ABV, 69 IBU
Machine House Brewery, founded in Georgetown in 2013, brews excellent cask ales, which are naturally re-fermented in the serving vessel and therefore don't carry the hefty artificial fizz of most modern beers. The cool "cellar temperature" they're served at also means these beers aren't ice-cold, which can put off unfamiliar drinkers but also allows fuller flavors and aromas to express themselves. That's all fine and dandy, but Peaks and Pints also has their Oatmeal Stout in our cooler. A heavy dose of flaked oats gives this classic stout a comfortingly smooth body, with rich malt sweetness balanced by the dry bitterness of roasted barley. Very full bodied with delicious chocolate notes, and a clean, dry finish that makes it an easy drinker.
Georgetown Moxie Vol. 3 IPA
5.8% ABV
Georgetown Brewing Co. was founded in 2002 by Manny Chao and Roger Bialous. Chao was one of the original employees of Mac & Jack's Brewing Co. Georgetown Brewing was originally located in a space at the historic Seattle Brewing and Malting Plant, where Rainier Beer was once produced. The company relocated to a larger Georgetown neighborhood space in 2008 to increase capacity. Lisa Uhrich, a comic book fan and one of the beer divas at Georgetown Brewing, approached the Jet City Comics people about brewing a beer for their annual comic show: Moxie. This year, Moxie Vol. 3 is a tropical and citrus hazy IPA.
Counterbalance Tabletop Supernova Imperial IPA
8.6% ABV, 90 IBU
Counterbalance Brewing Company, started by two former homebrewers who met while working at Seattle coffee company Caffe Ladro, opened its doors and launched wholesale distribution in February 2015. The Seattle's historic Georgetown neighborhood brewery brewed a double IPA with Columbus, Chinook, Cascade, Centennial and Simcoe plus a golden, honey malt profile. The result is a caramel and chewy malt flavor trying hard to keep up with the hops' strong resiny and orange character.
---