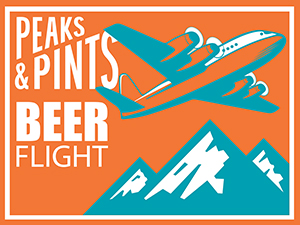 Hops have long defined life at B.T. Loftus Ranches in the Yakima Valley. Back in 1932, Kevin Smith and Meghann Quinn's great-grandparents founded the family hop farm that's now run by their older brother, Patrick. Meghann and her husband, Kevin Quinn, and younger brother were keen homebrewers. Wouldn't it be natural to start a brewery on the farm? In 2013, the trio took down three acres of the farm's Field 41 and built Bale Breaker Brewing Company, which is surrounded by fields of hops. Bale Breaker has grown to become the fourth largest independent craft brewery in Washington. With a 30-barrel brewhouse and a 27,000 square foot facility, they craft five year-round canned beers, including the widely celebrated Topcutter IPA. We also have a 5-barrel pilot brewhouse, the Imagination Station, where they test and develop new recipes. In conjunction with the release of their Brewshed IPA at Peaks and Pints tonight, we present an all-day Bale Breaker beer flight that we call Craft Beer Crosscut 10.29.19: Flight of Bale Breaker.
Craft Beer Crosscut 10.29.19: Flight of Bale Breaker
Bale Breaker Sesiones del Migrante Mango IPA
5.9% ABV, 30 IBU
The 5.9-percent IPA has quite the story. In May 2017, two of Bale Breaker's brewer-owners, Kevin Quinn and Kevin Smith, traveled to Mexico to brew beer with California breweries Ronin Fermentation Project from Truckee and SouthNorte from San Diego. At Cerveza Loba brewery in Guadalajara, the brewers concocted Loba Nómada, a New England-style IPA featuring hand-peeled mangoes, a homegrown ingredient. At Cerveceria de Colima in Colima, they brewed Vale Bale, an IPA with local coconuts. In early August 2017, brewers from all four collaborating breweries came to Yakima to brew Bale Breaker's inaugural Sesiones del Migrante Mango IPA featuring the freshest Yakima Valley hops. Sesiones del Migrante Mango IPA is fermented with 20 pounds per barrel of mango puree and dry hopped with Citra, HBC 630, and Ekuanot from YCH Hops. A portion of the proceeds will benefit La Casa Hogar, a Yakima non-profit that connects and educates Latina families.
Bale Breaker Leota Mae
6.2% ABV, 50 IBU
"A strong woman exudes confidence and self-respect. She's often regarded as the 'alpha female' within a group and lights up any room she enters. She knows what she wants and is in control of her life. I respect that. Everything I've read paints a picture of Leota Mae being a strong female. She's the great-grandmother to the family running Bale Breaker in the Yakima Valley. The matriarch of their family, she worked sunrise to sunset cultivating the land they still farm today. This sweet malt, crisp citrus hop IPA is a delicious tribute. Oh, and my camping buddies and I drank a bunch of it in Leavenworth two summers ago. It's so f—ing delicious." — Peaks and Pints bartender Nicole Allen
Bale Breaker Golden Grit IPA
6.6% ABV, 60 IBU
Bale Breaker titled their new IPA "Golden Grit" after the grit and perseverance needed to thrive in a challenging desert landscape. Replacing Hop Country, Golden Grit is the second release of its three-part IPA Rotator Series; a collection of hop-packed beers, each representing a unique characteristic of life in Yakima's hop country. This IPA is brewed with experimental hop HBC 630 creating a smooth bitterness rating. Equally fruit and hop-forward with a crisp, dry mouthfeel finish, this recipe proves there is more than one way to IPA.
Bale Breaker Brewshed IPA
6.9% ABV, 67 IBU
Bale Breaker's Brewshed IPA is a limited release collaboration with Washington Wild available exclusively in Seattle-area PCC stores, except Peaks and Pints scored a keg. A portion of beer sales will benefit WA Wild's Brewshed® Alliance to defend, protect, and restore Washington's wild lands and watersheds. With that in mind, Brewshed IPA is brewed with salmon-safe hops from Roy Farms in Moxee, Washington, which are grown with eco-certified farming practices that protect water quality, maintain watershed health, and therefore help to restore endangered salmon habitats. Brewed with Simcoe, Citra, Chinook, and Strata hops, Brewshed IPA is freakin' delicious.
Bale Breaker Topcutter IPA
6.9% ABV, 70 IBU
Topcutter IPA had the highest number of nominations during Peaks and Pints' Tournament of Beer: Washington IPAs seeding process. Bale Breaker's flagship IPA has changed lives. In fact it's rumored that Birchfield, the unincorporated community in Yakima County where Bale Breaker harvests hops and brews beer, is considering changing its name to Topcutter, Washington, to draw tourists from nearby Yakima. And why wouldn't Birchfield's council? Topcutter is a well-balanced yet aggressive West Coast IPA that showcases Yakima Valley hops, including late additions of Simcoe, Citra, Loral and Mosaic for a complex citrus, fruity and floral aroma and flavor.
---