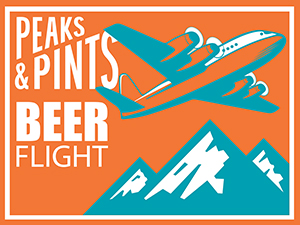 In 2001, Doug Ellenberger packed up his 1987 Volvo Station Wagon and made the haul from Indiana to Hood River, Oregon, following his love of craft beer and mountainous terrain. He brought with him a few duffel bags belongings and a load of knowledge from his time brewing for Lafayette Brewing Co. He landed himself a job at Full Sail Brewing, honing his craft. In 2002, Christine McAleer left her life and career as a social worker in West Virginia to pursue her passion for the outdoors, landing her in the great Columbia River Gorge. One seasonal gig after the other, she found herself at Full Sail Brewing, where she met Doug. They fell in love, not only with each other, but with a mutual dream of owning a business that would reflect their desire to provide innovative brews, locally-sourced food, and — most importantly — a place for everybody to connect and find a sense of home, Everybody's Brewing. July 2008, they began brewing in White Salmon, Washington, opening the restaurant a year later. Ten years later, they opened a new, stunning facility two doors down, doubling their production to 30 batches a week, but keeping their view of Mt. Hood, albeit from a bigger deck. Today, Peaks and Pints offers a beer flight everybody may enjoy called Craft Beer Crosscut 10.23.19: Flight of Everybody's.
Craft Beer Crosscut 10.23.19: Flight of Everybody's
Everybody's White Peach Gose
5.125% ABV
Doug Ellenberger dumped 700 pounds of white peaches to his gose adding a layer of fruity complexity to a style already known for its tart, tangy qualities. Soft peach aromas burst from the glass, while a light body and smooth mouthfeel make this beer incredibly refreshing.
Everybody's Cot damn! Apricot Sour Ale
6.1% ABV
Kettled versus aged. The former is a trendy way to make sour-tasting beer. It is much quicker, doesn't require any special equipment and is less expensive to make. The latter is an age-old tradition that involves careful production, long periods of fermentation and use of bacteria or wild yeast that if left unchecked can contaminate other beers. With kettle souring, bacteria is added to the raw wort, or unfermented beer. Brewers boil the wort to kill off the bacteria after it has reached the desired acidity level, then cool and ferment the beer as usual. The process allows for faster souring with less risk of contamination of other beers. Many critics note that kettle sours can be more one-dimensional than barrel sours; they haven't tried Everybody's Cot Damn! Apricot kettle sour. The aroma is all apricot, as is the flavor with slight sweetness. Cot Damn!
Everybody's Green Ice Pacific Pilsner
5.2% ABV, 32 IBU
Green Ice Pilsner is crisp and light. It has touch of Northwest hops on top of Weyermann Premium Malt. Everybody's ferments it long and cold. It's a Pacific Northwest take on a pilsner with citrusy aroma, some tropical notes in the taste with a pale ale-like finish.
Everybody's Stir It Up
7.1% ABV, 30 IBU
Stir It Up hazy IPA pours a light yellow with a white meringue head and lacing. It's hopped with Cashmere, Strata, and Motu. It has a nice light body by design. It's hazy and smooth, from just a touch of wheat and oats. Expect tropical aromas over pineapple and cantaloupe flavors.

Everybody's Cryo-Chronic IPA
6.9% ABV, 80 IBU
Remember when Austin Powers came out of the cryogenic process, which took a while to comp … compl… complete, the International Man of Mystery underwent laser cutting, the warm liquid goo phase, reanimation, cleansing and evacuation — all in that order. That last one just took a long time. Yakima Chief Hop Union's innovative cryogenic process doesn't take as long, and there isn't a warm liquid goo phase, but the results are delicious craft beers. Using YCH Hops' innovative cryogenic process, lupulin glands are separated from the hop cone, leaving behind a "hop powder" containing all the flavor and aroma oils. "Cryo Hops" showcase pronounced juicy and resinous flavors with greatly reduced grassy characteristics. Everybody's Brewing's Cryo-Chronic IPA is brewed with Cryo hops, Cryo-Chronic is an experimental IPA using cryogenic technology, which means very low temperatures. Through a cryogenic separation process, pure lupulin powder is extracted from any hop, leaving behind a "hop powder" that contains the desired flavor.  Enjoy the huge dank and earthy aroma and juicy flavor, with a bit of sweetness, from the pounds of Mosaic powder.
---