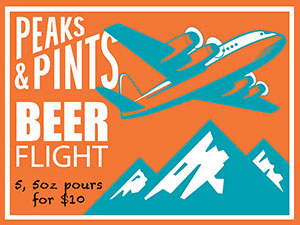 An IPA, Stout and Lager walk into a bar … or are they triplets? If you regularly attend craft beer festival, especially the Strange Brew Fest in Port Townsend, you know beer's four basic ingredients can yield an incredibly broad palette of flavors, thanks to the wide variation in malted barley, hops, yeast and even water chemistry. With different combinations of these ingredients and varying techniques used to deploy them, brewers can brew a white stout or a black IPA or a white black stout IPA. Also, craft brewers are tossing pretty much everything into beer: ingredients that more or less match existing beer flavors like coffee or honey, fruit of just about every kind, and out-there ingredients such as hot peppers, bacon, oysters and even Rocky Mountain oysters. Chocolate is one of the ingredients that is so commonly used in porters and stouts that its inclusion barely qualifies as weird beer. Unless, that is, it's applied to a very different style of brew, in which case it becomes the weirdest. If you raise a pint, you could start to wonder if you're a little delirious. At the end of the day, your palate is never wrong. What you taste is what you taste. Peaks and Pints presents Craft Beer Crosscut 1.4.18: A Flight of Style Benders — five beers that basically mess with the beer style.
Avery Liliko'i Kepolo
5.4% ABV, 10 IBU
Avery Brewing's Liliko'i Kepolo (hard to say, easy to drink) is an unexpected delight! We don't typically expect witbiers to be this interesting, original or surprisingly tart. It looks like your average Wit, with minimal, fine white foam over a hazy straw body, but lean in for a whiff and up wafts strong passion fruit, a little citrus and banana, coriander, and some creamy wheat malts. To taste, there's an underlying spice throughout, but it starts off with a tart, citrusy bite, possibly due to the Bravo and Sterling hops. The passionfruit is evident, though not as heavy as on the nose, and the fuzzy mouthfeel reminds us of biting into a peach. We love everything about Liliko'i Kepolo — its glowing gold color, frothy white head, and each aspect of its delicious, exotic flavor. Mahalo!
No-Li Brewhouse Rise & Grind 2.0
6.1% ABV, 22 IBUs
No-Li Brewhouse has released an updated version of its Rise & Grind coffee milk stout. It's more cup of coffee with a splash of milk than stout. The award-winning Rise & Grind smells like a bag of freshly roasted coffee and some semi-sweet chocolate chips. The coffee flavor on this beer is full on black coffee. Seriously. Layers of freshly roasted Gemelli coffee gives the beer the flavor of bitter dark roasted coffee, a bite of acidity, and just the slightest touch of chocolate sweetness on the finish — thanks to the grain bill of 2-Row, Extra Special Roast, Dark Chocolate Malt, Black Malt and flaked oats. Potent, strong, flavorful and should be served in a 16-ounc paper cup with a mermaid staring you down.
21st Amendment Not Your Cup of Tea
9% ABV, 24 IBU
The 21st Amendment Brewery has launched a new series of beers called Tales from the Kettle, and the first release is Not Your Cup of Tea, a Scottish-style ale brewed with black tea. Each new beer in the series will come from an employee home-brew competition judged by members of the San Francisco Brewers Guild. Team "Slainté to the Queen" — 21st Amendment's graphic designer, a server at its pub, its Chicago sales rep and one of its maintenance technicians — is this year's winner and they tell their tale through a one-of-a-kind, exceptional Scottish-style ale brewed with black tea they call "Not Your Cup of Tea." We can't taste the black tea so much but we can taste caramel, molasses, earth, slight cocoa, touch of plum, little prune and plenty of peat smoke with additions of charcoal. It hides the 9 percent ABV well.
Breakside Beachcomber
9.2% ABV, 25 IBU
Portland's Breakside Brewery has tiki on the brain. Its strong golden ale Beachcomber with fresh ginger and Belgian yeast strains ages 11 months in Caribbean rum barrels, developing rich notes of coconut, molasses and burnt sugar. Breakside thought the flavors pointed so clearly toward tiki cocktails that the brewers decided to make a cocktail beer out of it, aging the beer on vanilla bean, toasted almond and a bit of lime zest. Mahalo!
Wet Coast Scofflaw CDA
7.1% ABV, 65 IBU
No American craft beer style has ever generated more contentious debate than black IPA, when it comes to nomenclature. From the moment that people starting calling this style anything, there's never been consensus on what exactly they should be called. Basically, it's a hoppy IPA with mild to moderate roastiness that is sometimes derived via debittered black malts such as Carafa and dark wheat malt, lending a crisper edge and the type of dry, coffee-like flavor you find in the German black lager style, schwarzbier. Wet Coast's Scofflaw CDA is absolutely an IPA — more so than many black IPAs. Columbus, Falconers Flight, Amarillo and Simcoe hops provide a hit of citrus, resin and smooth bitterness. While dark wheat malt gives the beer its black color and just a hint of roast character, the beer leaves the palate slightly dry, accentuating its hop character.
---