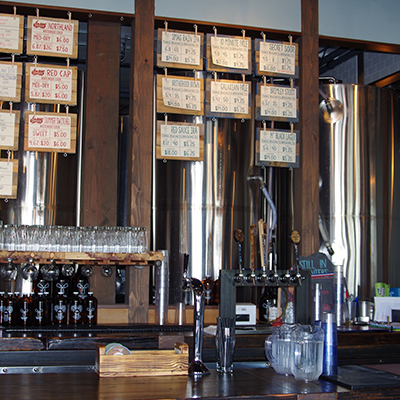 Three Magnets Brewing Co.
600 Franklin St. SE Suite 102, Olympia, WA 501
Biography
Established: 2014
Owners: Sara and Nathan Reilly
Brewers: Head brewer Pat Jansen, Jeff Stokes
Location: 600 Franklin St. SE Suite 102, Olympia, WA 501
Specialty: Hoppy beers, barrel-aged beers and sours
Five Notable Beers: Rain IPA, Sun IPA, Little Juice IPA – Smoothie Edition, Helsing Junction Farmhouse Ale, Howards Blend 100% Bourbon Barrel Aged Imperial Stout
Awards: GABF bronze and 2015 Washington Beer Awards bronze for Old Skook Barleywine
Fun Facts:
>>> The owners met head brewer Pat Jansen pouring beer at the Helsing Junction Farms K-Records Sleepover, a three-day campout and music festival, where Three Magnets now pours beer every year.
>>> Three Magnet's first brew day began around 7 a.m. and lasted until 3 a.m. the next morning. Learning the new system and ensuring proper sanitation of all pieces of equipment were the main culprits for the long day.
>>> Sara and Nathan Reilly also own Darby's Café, which was moved into Three Magnets Brewing, sharing a kitchen and tap lines in 2016.
Three Magnets brews a variety of ales, European style lagers and Belgian style farmhouse and sour beers on a 15-barrel system, including hot side (mash/boil) produced by Marks Metalcraft of Vancouver, Wash., while all fermenters and bright tanks were manufactured by Practical Fusion of Portland — four fermenters and six bright tanks. Award-winning Chef Kyle Wnuk delivers fresh seafood options, terrestrial charcuterie, aquatic charcuterie, cheese plates and oysters on the half shell to a handsome taproom where soccer rules.