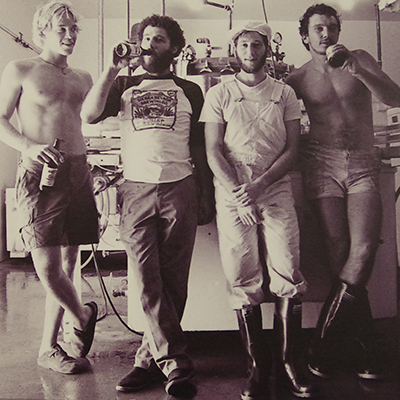 Sierra Nevada Brewing Co.
Sierra Nevada Brewing Co., 1075 E 20th St, Chico, California, United States
Biography
Established: 1980
Owner: Ken Grossman
Brewer: Steve Dresler, brewmaster
Location: 1075 E. 20th St., Chico, California, (530) 893-3520
Specialty: Premium ingredients and time-honored brewing techniques make Sierra Nevada ales and lagers truly exceptional beers. Grossman, who is still hands-on, strives for a balance between aggressive hops — always whole cone — and hearty malt flavor.
Five Notable Beers: Pale Ale, Porter, Stout, Torpedo "Extra" IPA, Bigfoot Barleywine Style Ale
Awards: Sierra Nevada has earned too many awards to list. Pale Ale won its first gold medal at the 1983 Great American Beer Festival. Bigfoot Barleywine took gold at the 1987 Great American Beer Festival. Nooner Pilsner grabbed gold at 2010 World Beer Cup. Ruthless Rye PA took gold at 2012 World Beer Cup Gold. And on and on. The brewery was named "Green Business of the Year" by the U.S. Environmental Protection Agency in 2010.
Fun Facts:
>>> Founder Ken Grossman claims the company's name comes from his love of hiking in the mountains of the Sierra Nevada.
>>> Sierra Nevada is considered one of the earliest and most influential breweries. It spawned the craft beer movement of the 1980s-90s.
>>> Steve Dresler, brewmaster, has been with the brewery since 1983, when its output was 25 to 30 barrels per week.
>>> Sierra Nevada reached a 100,000 barrel per year in 1993.
>>> Pale Ale is still the number one seller, accounting for 60% of the company's sales
>>> Sierra Nevada is the largest buyer of organic hops in the United States. It also farms its own organic hops and barley at its Chico plant for use in its annual Chico Estate Harvest Ale release.
>>>Peaks and Pints co-owner Ron Swarner was part of Beer Camp #175. The 10 "Campers" brewed a chocolate imperial stout called Chicocabra.
Ken Grossman grew up in the San Fernando Valley stealing parts to create mechanical innovations and blowing up mailboxes. He channeled his energy toward photography, bike repair and (pre-legal drinking age) distilling. Bike repair, home-brewing, bike repair home-brewing, back and forth until he managed the bike shop while turning his home-brewing passion into the Sierra Nevada Brewing Co. with a home-brew customer Paul Camusi. After years with emptying pockets, IOUs with family and friends and Grossman scrounge for parts and hand-building basically his entire brewing system, Sierra Nevada finally brewed a batch in November 1980 on a 10-barrel system. They dumped their first 10 batches until they found the taste they desired. Using whole cone hops, their Pale Ale was unlike anything on the market. Barely profitable, the company built out production to 12,000 barrels a year by 1988. It also hired a few employees, including Steve Dresler, still head brewer until he retires in 2017, and bought a100-barrel copper brewhouse from a failed German company and installed it at a new Chico location down the road. Sierra Nevada continued to grow, becoming the third largest American brewery in 2015. A lot happened at the Chico brewery from 1988 to present day — Grossman bought Camusi out, becoming the industry darling for sustainability, opening a $100 million second brewery location in Mills River, North Carolina — the brewery is still producing new labels, hosting nationwide Beer Camp Across America festivals to celebrate its Beer Camp collaboration beers with other craft breweries. Grossman, worth an estimated billion dollars, is beloved and respected both in the industry and among consumers