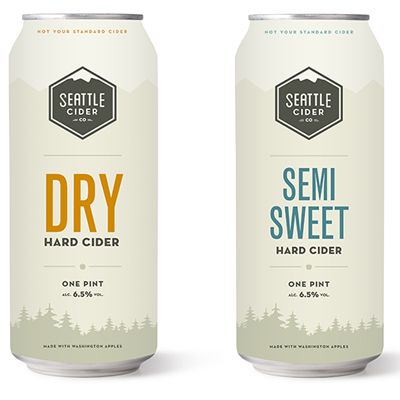 4700 Ohio Ave S, Seattle, WA, United States
Biography
Had I uttered words "Angry Orchard" inside The Spar in Old Town Tacoma a week ago, the two guys at my table would have called me a blasphemer. The big brands — like Angry Orchard, Woodchuck, Crispin — may be largely responsible for hard cider's rapid growth in the beverage market share. But consumers with a preference for craft beer have learned to look for small-batch, authentic, fresh product, and they want that in hard cider, too. Eric Willard and Brett Thompson of Seattle Cider Company, the city's first post-Prohibition cider producer, deliver such an artisan product — around 12 products currently.
The upcoming The Swiss Restaurant & Pub Two Beers Brewing/Seattle Cider Company pairing dinner bought the three of us together; the Seattle Cider Company history lesson extended our lunch over a three, Two Beers Fresh Hop IPA period.
Joel VandenBrink, the founder of Two Beers Brewing Co., launched the Seattle Cider Company in August 2013, with the help from his Two Beers sales rep and a former farm hand Willard. Diagnosed with Crohn's disease, which makes beer difficult to digest, VandenBrink launched the cider company with only two products: Semi Sweet and Dry. VandenBrink didn't launch with six to 10 products, common with start-up craft breweries. He didn't launch with experimental pineapple cider or pomegranate cider. No, VandenBrink, Willard, up-and-coming cider savant Brent Miles and the Seattle Cider crew — with natural support from the Two Beers crew too — hit the market with two, solid ciders. And the cider company sprouted big and wide.
Now it's 2009. With sales tripling in less than a year, Two Beers Brewing Co. moved its full operation from a tiny spot in Seattle's Fremont neighborhood into a 2,400 sq. ft. SoDo neighborhood brewery and tasting room, adding three 250-gallon tanks, one 1,000-gallon tank and a cellar. The brewery quickly reached 470 barrels sold in its second year. Tacoman Willard, who works across the street at Tiny's Organic, wanders over to Two Beers and begins friendship with VandenBrink. Willard would often push aside his beer and help wash pint glasses and fill kegs. He would deliver kegs to Tacoma taverns The Spar and The Parkway on his way home.
"I just wanted to be around Joel and the Two Beers guys. Sure, Joel was from my home state of Michigan, but it was much more than that," explains Willard, now a Two Beers/Seattle Cider co-owner, as well as sales and distribution co-director for the two companies. "These were smart, fun, hard-working people who cared deeply about their fellow employees. I was fascinated with their fermentation knowledge."
Willard began experimenting with apple fermentation, tinkering with yeast in carboys stored deep in Tiny Organic's walk-in coolers. Willard would carbonate his cider, transfer to kegs and share with friends. His small-batch ciders gained even more friendships.
VandenBrink eventually hired Willard to help with operations at Two Beers; exponential growth led to Willard's move into sales.
VandenBrink and business partner, Tyler Pickel, had first rights on the neighboring Churchkey Can Co. space due to a contract brewing agreement. When Churchkey folded, VandenBrink's dream to start a cider company became a reality. In the spring of 2013, the Seattle Cider Company was formed with a six-month opening date schedule, which they hit Aug. 24.
"Brent Miles and I would buy 40 pound boxes of five different apples and experiment over at Two Beers trying to figure out our base juice," explains Willard. "We rented a hand apple press machine from West Seattle Tools that we kept forgetting to return. We would hand chop the different apples, hand crank the machine to find the right blend of apples for the fermentation juice. Then, we would line up ten carboys and add different yeasts to each juice to find the perfect base."
Willard says their initial base juices were really good, but Miles was never satisfied. Miles, who is now the cidery's operations manager, is also gluten intolerant and harbored a love of cider from a year teaching in France. "He has such an amazing passion for cider," adds Willard.
The cider company outsold the brewery in month two of year two. Hit just shy of 7,000 barrels at end of year one, double of what they thought they'd be doing in year five.
Having celebrated their two-year anniversary last month, the Seattle Cider Company will soon distribute in an 11th state. Their production is chasing demand. Every six weeks to two months they need to add equipment to keep up with demand. Current capacity stands at 23,000 barrels, with expansions planned for October and early spring bringing the total to 45,000 barrels. With big plans for expansion and additional markets as they enter year three, Seattle Cider Company has quickly become on of the largest cideries in Washington state.
"The Swiss pairing dinner with Two Beers and Seattle Cider makes sense on many levels," says Thompson, a Certified Cicerone Level II, and recent addition to the sales force of the two companies, although he had been representing them at Columbia Distributing for years. "Yes, both companies make delicious products. Yes, having great beer and cider together on a pairing dinner menu is innovative and makes for a fun evening. But, also the two separate companies come across as interchangeable, riding each other's coattails. A company licensed as a brewery cannot produce wine or cider. Still, many people think they're the same company. You'll hear: 'Oh, Two Beers Cider is on tap,' or 'May I please have that Seattle Cider beer.' Yet, they are two different companies. A quarter-inch crack in the foundation between the two companies proves it."
"Our brewer and our cider maker even share they same office," explains Willard. "Two Beers and Seattle Cider on the same menu isn't weird.
"Plus, Swiss Chef Jacob Thacker really wanted two pair the beers and cider with a four-course dinner, so there's that," adds Willard with a laugh.
Five Seattle Cider Company Cider You Should Try
Dry Hard Cider
Granny Smith, Fuji, Red Delicious, Golden Delicious and Gala apples in this unfiltered cider lends way to notes of lilac, blood orange and green apple on the nose. Dry and pleasantly acidic, flavors of nectarine, under ripe peach and tart cherry hit the palate with no residual sweetness. ABV: 6.5%
Semi Sweet
Same apple selection as Dry Hard Cider but with just a touch of sweetness. Honey in color with notes of bergamot orange, lemon, apple and hints of citrus and cinnamon on the palate. ABV: 6.5%
Citrus Hard Cider
A refreshing cider complemented by a bold citrus flavor from grapefruit, lemon, and orange peel, balanced by a subtle, medium-dry sweetness. ABV: 6.5%
PNW Berry Cider
Crafted with locally grown raspberries, blueberries, and blackberries this seasonal starts  softly tart and end softly sweet. ABV: 6.9%
Pumpkin Spice
From August to November, this semi-sweet cider is fermented with cinnamon, nutmeg, allspice, cloves and a touch of pumpkin. ABV: 6.9%