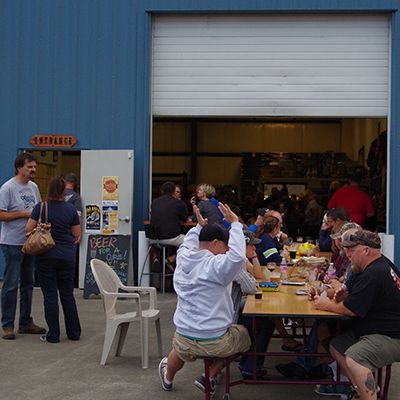 3516 Galvin Road, Centralia, WA, United States
Biography
Established: 1994
Owner: Julie Pendleton
Brewers: Dave Pendleton and Brandon Brock
Location: 3516 Galvin Road, Centralia WA 98531
Specialty: Beer brewed for the everyday.
Five Notable Beers: Dick Danger Ale, Dick's Cream Stout, Dick's Double Diamond Winter Ale, Dick's Imperial Red (Reckless Red), Dick's Irish Red Ale
Awards
2015 Washington Brewers Fest Bronze medals for Cream Stout and Imperial Red
2015 Capitol Food and Wine Festival, Best in Class, Best in Show for The Buck Session IPA, among other awards
2013 Washington Brewers Festival bronze medal for Grand Cru
Fun Facts
>>> One of the few female brewery owners, Julie Pendleton took the reins from her late father, Dick Young. Julie's husband Dave learned brew secrets from Dick, and the husband/wife team carries his recipes, work ethic and charisma into the business.
>>> When you visit, don't forget to say hi to Porter the brew dog.
In 1984, Dick Young built, from scratch, a 3 bbl Brew house (which is still use today as a pilot system) to start designing and creating recipes in the back of his first business, Northwest Sausage and Deli.
The brewery was located behind the deli from 1995 to 2008. Production and distribution grew from 200 bbls in one state to over 3000 bbls a year in six states. Dick's creative passion for brewing also grew, starting with three recipes in 1994 to over 20 styles in 2009.
In 2008, Dick's Brewing Company moved into its current location on Galvin Road. Dick opened a tasting room at the production facility in 2009. Dick's brews on 15 bbl system, has bottled beers, and just started a barrel age program for Big Wood Bourbon Stout.